Show Some Love to Local Animals This November | The Texas Living Realty Group
Posted by Miriah Zuniga on Monday, October 31, 2022 at 12:31:30 PM
By Miriah Zuniga / October 31, 2022
Comment
This November, we're teaming up with our local animal shelter to help out some furry (and not so furry) friends in need! The shelter is currently overflowing, and they are in dire need of supplies. See the attached wish list for more details. If you're able to donate any items, please drop them off at our office. Let's come together and show these animals some love this month!
Why Support the Animal Shelter?
There are a number of reasons why donating to your local animal shelter is important. For starters, animal shelters rely heavily on donations to keep their doors open and help as many animals as possible. When you donate supplies or food, you're directly contributing to their ability to care for the animals under their roof. In addition, your donation helps free up funds that can be used for other vital services, such as medical care and spaying/neutering.
Secondly, by donating items on the animal shelter's wish list, you're helping to ensure that the animals in their care are comfortable and have everything they need. When animals are relaxed and well-cared for, they are more likely to be adopted into loving homes. And that's what we all want for these sweet creatures!
Finally, donating to your local animal shelter is a great way to give back to your community. When you support the animal shelter, you're also supporting all of the people who volunteer their time and efforts to make it run smoothly. The truth is, most animal shelters are run entirely by volunteers, which means they rely heavily on donations and goodwill from members of the community. So when you support your local animal shelter, you're really supporting all of the amazing people who make it possible!
How Can I Help?
Donating items from the animal shelter's wish list is easy! Simply choose one or more items from the list or multiple (see attached), purchase them from your local store or online, and drop them off at our office any time during business hours throughout the month of November. It's that easy!
And if you're not able to donate items this month, there are plenty of other ways you can help out your local animal shelter. You can volunteer your time to walk dogs, clean cages, or do laundry. Whatever you decide to do, know that every little bit counts and that you are making a difference in the lives of these adorable creatures!
This November let's come together and show our furry friends some love! Animal shelters across the country are overflowing, and they need our help! See the attached wish list for more details on how you can contribute. Thank you in advance for your support! (:
Address for drop off:
The Texas Living Realty Group
2000 w 2nd ave Suite A Corsicana, TX 75110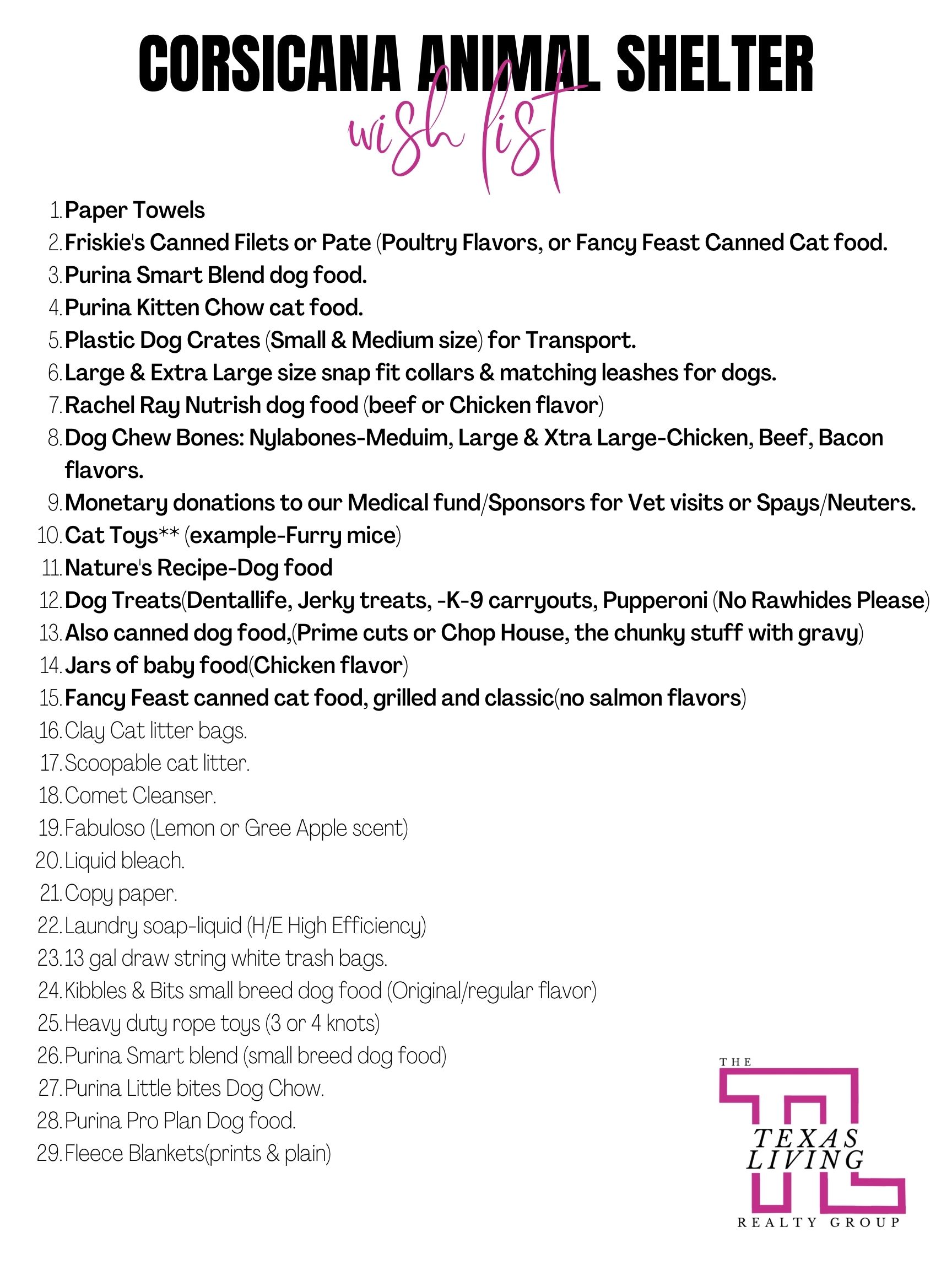 You can download the PDF flyer here : Corsicana_Animal_Shelter.pdf