The Ultimate Guide to Living in Richland Chambers Lake | Richland Chambers Lake Guide
Posted by Miriah Zuniga on Wednesday, July 19, 2023 at 1:54:02 PM
By Miriah Zuniga / July 19, 2023
Comment
Are you considering a move to Richland Chambers Lake? Or perhaps you're already a resident looking to discover more about your beautiful surroundings? Either way, you've come to the right place. We've compiled an all-inclusive guide to living in Richland Chambers, and we're excited to share it with you.
Richland Chambers Lake: A Hidden Gem
Richland Chambers Lake, the third-largest inland lake in Texas, is a hidden gem that offers a unique blend of natural beauty, recreational activities, and a thriving community. From its stunning sunsets to its abundant wildlife, it's no wonder more and more people are choosing to call Richland Chambers home.
Why Choose Richland Chambers Lake?
Living in Richland Chambers Lake means having access to top-notch schools, a robust real estate market, and a variety of dining options. Whether you're a foodie, an outdoor enthusiast, or someone seeking a peaceful retreat, Richland Chambers has something for everyone.
Our Comprehensive Guide to Richland Chambers Lake
We've put together a comprehensive guide that covers everything you need to know about living in Richland Chambers Lake. This guide includes information on local schools, real estate trends, popular dining spots, recreational activities, and answers to common questions about the area.
What's Inside the Guide?
Our guide is a treasure trove of local insights and practical advice. Here's a sneak peek at what you'll find inside:
Living on Richland Chambers: Get a feel for what it's like to live in this vibrant community. We cover everything from the cost of living to the local culture.
Schools Richland Chambers Lake: We provide an overview of the local school system, including public and private options, to help you make the best decision for your family.
Richland Chambers Real Estate: Learn about the local real estate market, including average home prices, trends, and tips for buying or selling a home.
Places to Eat on Richland Chambers: Discover the best local eateries, from cozy cafes to fine dining establishments.
Things to Do on Richland Chambers: Explore the wide range of recreational activities available, including fishing, boating, hiking, and more.
Common Questions about Rihcland Chambers: We answer the most frequently asked questions about living in Richland Chambers Lake.
Download Our Guide Today!
Ready to discover all that Richland Chambers Lake has to offer.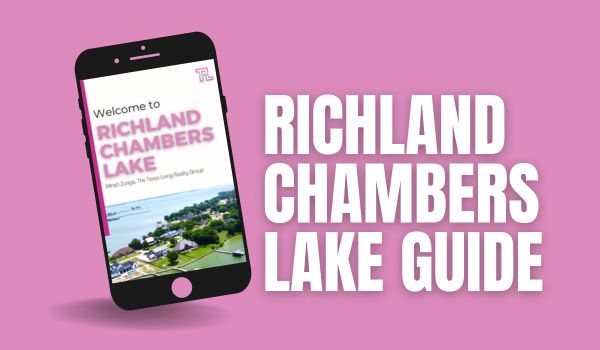 Grab your local guide here: https://bit.ly/richlandchamberslakeguide