Best Snow cones in Corsicana TX
Posted by Miriah Zuniga on Thursday, June 22, 2023 at 9:04:28 AM
By Miriah Zuniga / June 22, 2023
Comment
Welcome to Corsicana, a hidden gem nestled in the heart of Texas. This vibrant town offers a unique blend of history, natural beauty, and small-town charm that will capture your heart from the moment you arrive. In this blog, we invite you to explore the wonders of Corsicana while introducing you to a local business that embodies the spirit of this extraordinary community.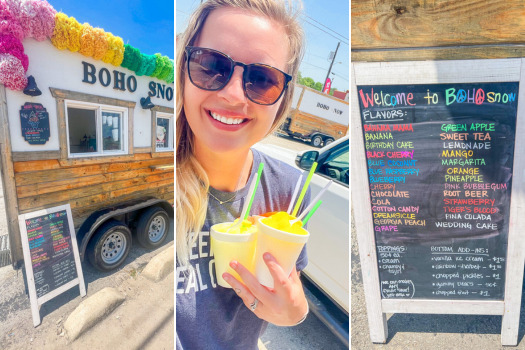 Boho Snow:
Just when I thought I'd tasted it all, I stumbled upon a hidden gem in our very own town - Boho Snow. It was love at first bite and let me tell you why. Boho Snow is more than just another snow cone vendor. It is a local business that has reinvented the classic summertime treat, elevating it to a whole new level of decadence. Picture finely shaved ice so smooth it could pass as freshly fallen snow. Now imagine that blanketed in a symphony of flavors so perfectly balanced that each mouthful is a delightful surprise.
Every snowcone from Boho Snow offers an icy escape from the sweltering heat, a moment of pure, frosty bliss. But the magic doesn't stop there. Boho Snow's masterful concoctions aren't just about the perfect blend of ice and flavor. They're also about diversity and innovation.
They have a plethora of flavors to choose from, making each visit an adventure for your taste buds. Whether you're in the mood for something traditional like cherry or something more exotic, they've got you covered. The ability to mix and match flavors or add extras lets you customize your snowcone to your liking, adding a fun, personalized touch to the experience.
In addition to their staple flavors, Boho Snow keeps things interesting with weekly specials that push the boundaries of traditional snowcones. Each week brings a new creation to anticipate, making every visit to Boho Snow a unique experience.
And the best part? You can follow them on their exciting journey through town. Boho Snow operates with a pop-up model, so they could be anywhere next week. Their Facebook page is continuously updated with their location, so you never miss an opportunity to enjoy their amazing snowcones.
So, whether it's a sweltering summer afternoon or just an average day, Boho Snow is the go-to spot for an icy treat that never disappoints. Trust me when I say; you'll find yourself hunting them down for another bite of frosty perfection. Don't just take my word for it; give them a follow, try it out for yourself, and support local. You'll thank me later.
Visit Corsicana Today:

We extend a heartfelt invitation for you to come and experience the magic of Corsicana, Texas. Whether you're drawn by its rich history, natural wonders, or warm community spirit, this town has something for everyone. Immerse yourself in the delights of our local shops, savor the flavors of our culinary scene, and explore the hidden treasures that make Corsicana truly special.
Once you've fallen in love with Corsicana, our dedicated local real estate team is ready to help you make the move and find your dream home. Contact us today, and let us guide you on your journey to becoming a proud member of the Corsicana community.
Corsicana awaits your arrival. Prepare to be captivated by its irresistible allure, and embark on a remarkable journey that will leave you longing for more.